Karilee Merchandise
Karilee teams are expected to wear the Karilee uniform at competitions and concerts. We recognise that uniforms can be expensive, so we have kept the compulsory uniform items to a minimum. We also sell second hand uniform items when available.
Uniform: The uniform consists of a Karilee jacket, plain navy tracksuit pants and a Karilee polo shirt. Karilee only has a small amount of new uniform items in stock. If the item isn't in stock and needs to be ordered; there will be five to six weeks from the time ordered to supply as these uniform items are custom made.
Second Hand Items: The club accepts uniform items in good condition for resale or as a donation to be sold by the Merchandise Officer. Please email the Merchandise Officer if you are interested in purchasing second hand uniform items. Karilee usually resells second hand uniform items in good condition for half the original cost. Our new policy in 2020 is to buy back suitable uniforms items and training items (e.g. practice skirts, rods & clubs) for resale to other member. The value of your items will be assessed and your account credited for your items. These second hand items will be held as Karilee stock for resale to other members. If you have a second hand polo shirt in good condition, please email the Merchandise Officer.
Optional items: Karilee has Anniversary Hoodies (with or without a front zipper) and Rugby Jersey as optional items to order. The Anniversary Hoodies or Rugby Jersey can be worn when not competing in competitions, at concerts or to training.
Accessories: Karilee also has accessories such as brooches and badges and other items such as back pack bags, USB drives and water bottles.
For more information contact the Merchandise Officer, email karileemerchandise@gmail.com.
Click on the order form button to open the order form:
2020 Karilee Uniform orders are currently on hold.
Contact the Merchandise Officer for more information.
Uniforms
Karilee Jacket
The Karilee jacket is maroon, navy and white tracksuit jacket with embroidered Karilee emblem.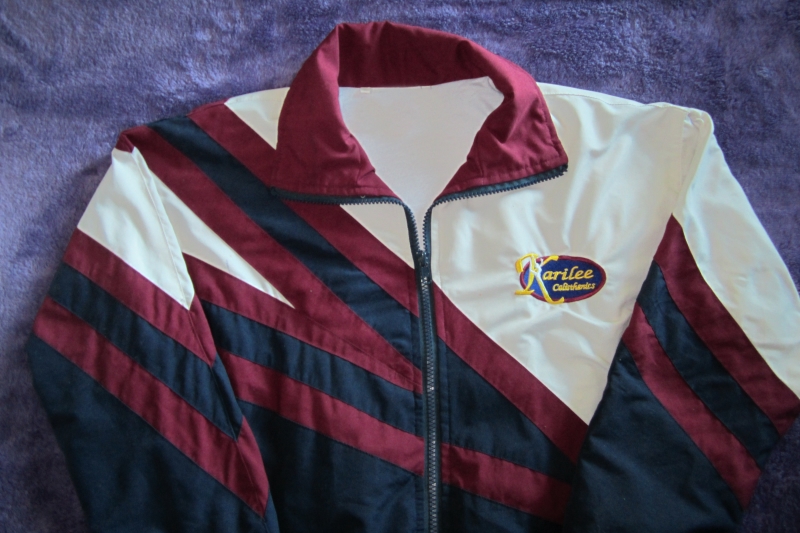 Karilee Polo Shirt
The Karilee Polo Shirt is a maroon, navy and white polo shirt with embroidered Karilee emblem.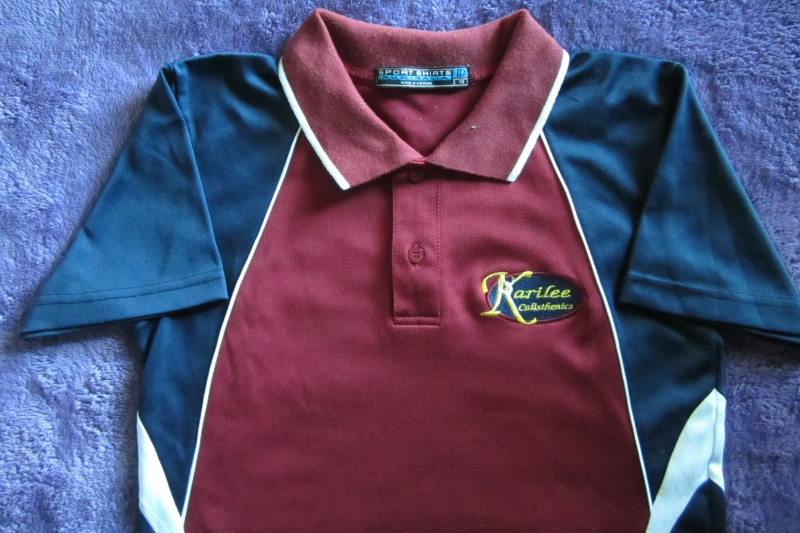 Other Karilee Uniform items
Navy Tracksuit Pants as part of the uniform has been review and will be replaced by leggings.
But those members with track suits are still able to wear their tracksuit pants.
– plain navy tracksuit pants without stripes down leg
– Not purchased from Karilee
White canvas slip-ons
or white runners and socks
– Not purchased from Karilee
Optional Items
Optional items are only ordered when there is sufficient demand.
A minimum number of orders are required before Karilee can place an order for hoodies (min. order 10) or Ruby Jerseys (min. order 20) with the supplier as they are custom made. The usual time from placing the order until delivery is five to six weeks. Karilee only places an order for these optional items when the minimum numbers have been pre-ordered. We do accept back orders and will notify the member when there are enough orders to proceed with the placing of the order.
Karilee Anniversary 1979-2019 Hoodie
Karilee Anniversary 1979-2019 Hoodie are available with or without a zipper. There is a sizing chart to assist you to choose the size to order. We can also arrange for you to try on a hoodie to ensure that you order the correct size as no additional hoodies are ordered.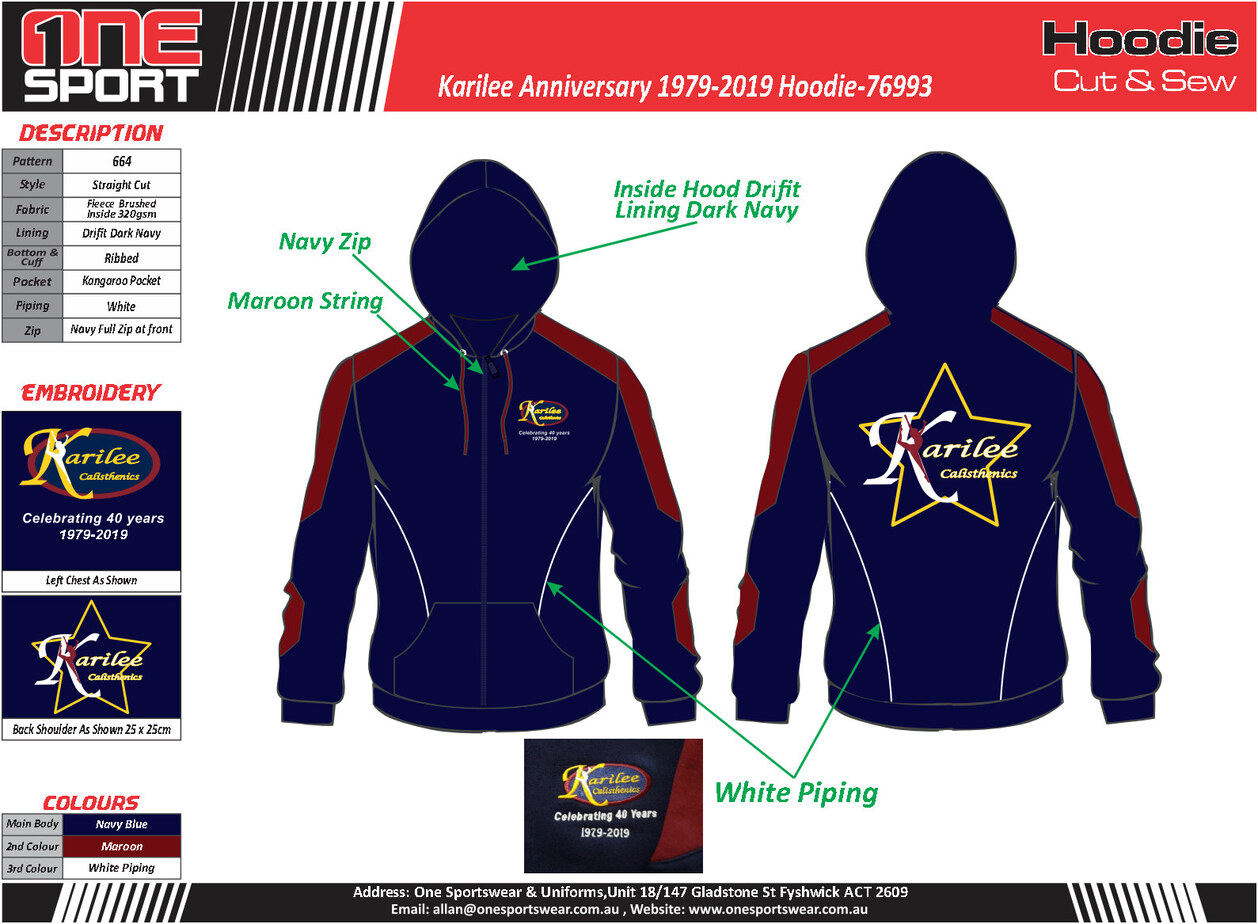 Karilee Rugby Jersey
Rugby jerseys (with optional name on the back) are an optional Karilee item. As most members already have a rugby jersey it can be difficult to get enough orders to plan a new order.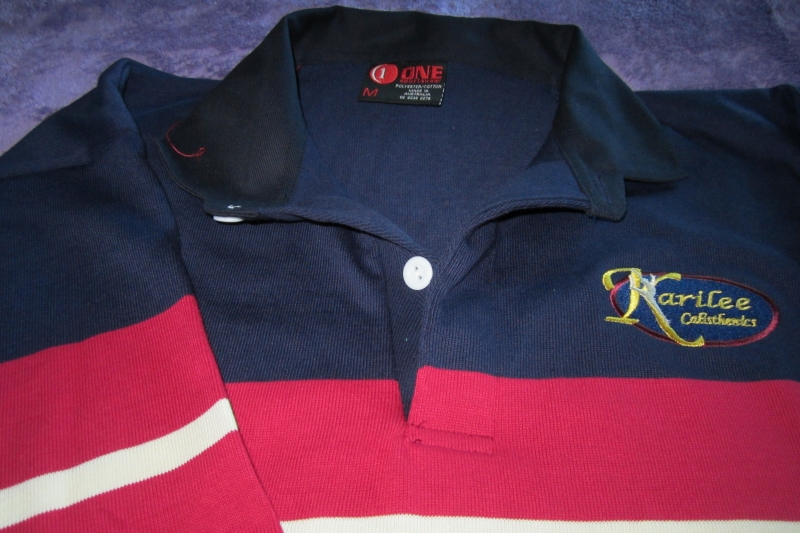 How to order Karilee Uniforms
Karilee uniforms requirement can be discussed with your Team Manager or by emailing the Merchandise Officer. New uniforms are usually ordered during the first couple of weeks of term one each year to ensure they are available for the first competition in June.
Karilee uniforms and accessories are ordered on-line, link to go to the order form.
If you require more information on Karilee uniform items or accessories, please email the Merchandise Officer or your Team Manager.
Other Items
Rods, clubs and practice aesthetic skirts are ordered through the Team Manager or Team Wardrobe Manager usually in the first term. Makeup and hair items need to be purchased by competitor. Team managers will usually remind competitors about the requirements before each competition.
Equipment:
Rods (approx. $5);
Clubs for Subbies to Seniors only (approx. $30-$35)
Clothing items:
Practice Aesthetic skirt (approx. $20)
Training top (varies with each age group)
Black Leotard encourage for Junior to Seniors training and required for skills exams
Black Wrap-round top (optional)
High-cut skin coloured underpants for competitions
Skin coloured bra for older girls with clear shoulder and back straps for competitions
Hair and Makeup Items
Hair items:
Hairspray; hair gel in a tub; tail comb; hairbrush; hair elastics ; hair nets to match hair colour
Normal closed bobby pins; open hair pins; bun stuffer (if needed)
Karilee has hair pieces that are used for competitors for the younger age groups
Make-up items:
Eyelashes (Juniors to Seniors)
Foundation (same colour as skin)
Lipstick – colour depends on coach but generally 'Australis Rich Red'
Leg/Body Tan – Le Tan Bronze preferred brand to use. Either the legs or the whole body are tanned for each competition from Subbies through to Seniors. The extent of the tanning depends on age group, coach and the style of costume.